One of the first artists that I want to explore in depth as part of a revival of a visual research journal is Wangechi Mutu. She is a Kenyan-born, New York based artist, and what I appreciate about her work is the way she combines a beautiful, signature and experimental techniques with an activist stance. Her work talks about issues relating to racism, sexism, and environmentalism. The technique + the themes produce eery and beautiful images.
Because Wangechi Mutu's Backlash Blues (above) is painted on mylar, the paint and ink suspend on the surface, and in some areas, becomes transparent. She uses techniques like airbrushing, stenciling, spills, and brushwork. It is also a collage so many photos are merged together and also includes patterns of dyed fabric. I am interested in exploring these types of techniques in my next series of artworks. Here Mutu is exploring "apocalyptic glamour, fusing tribal 'primitivism' with the exotica of radical chic."
I'm surprised I haven't written about the next artist yet on my blog. Romare Bearden. One could argue that he is often "overused" in teaching visual art in PK-12 settings, but I think there is a reason he is known as one of the most influential American artists during the 20th century. I don't want his popularity to dissuade me from doing my own deep analysis of his work. His collages have always caught my eye – the way he paints and collages artworks, again usually with an underlying political message rooted in African American life.
Take his Odyssey series for example (video above). His love of literature and story telling inspired him to reflect and translate the ancient Greek saga into his interpretation that put African Americans at the center of the narrative, humanizing and heroizing the struggles of Black Americans. Very interesting and inspiring! It encourages me to use my inspirations, like collage, to create art that emphasizes my own experiences, views, and opinions on issues.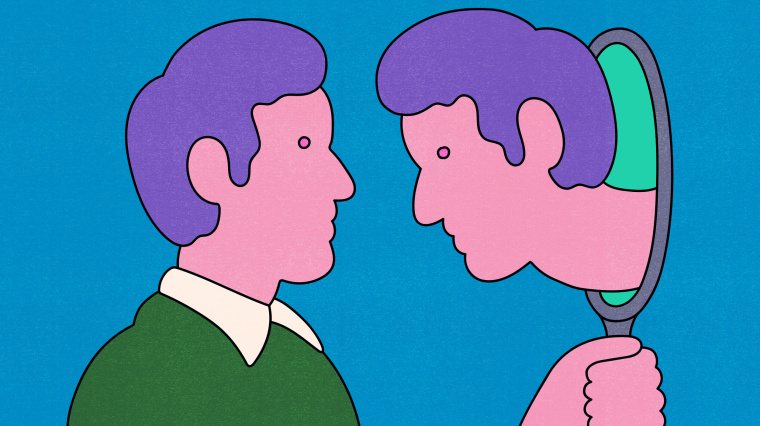 For my artwork, I really like focusing on the solutions. It's very easy within social justice circles and organizations to focus on the problem. I think that it is important to clearly articulate the problem, however I don't want my artwork to stop there. I want to engage the viewer so they are encouraged and supportive to examine and imagine their role with self-awareness. I really want my artwork to be participatory, where their reflection is a necessary step important in creating the work and the solution.
Another artist who is very famous but I haven't written about yet is Jasper Johns. I found him while researching because apparently his work was very participatory in nature. Although not strictly a collage artist, he did use mixed media. Check out this video on a recent 2021 retrospective exhibition, Mind / Mirror:
Mirrors and reflections are a constant theme and visual organizational tool in Johns' work. For example "Mirror's Edge 2" (above) is a chalk-blue and gray canvas scattered with collaged images including a ladder, an illustration of a whirling galaxy, and a stick figure falling headfirst through space. You see this spiral shape mirrored in the litho print the following year on the right, which also includes a photo of a family. I like this collaged mashup of ideas and perspectives that forces the viewer to reconsider their own location and identity in space and time.
Okay next step – gather my own images! I think I'm going to cast a wide net to see what arises and not be too picky. Starting is the hardest part for me. Stay tuned!